Timothy M. Burke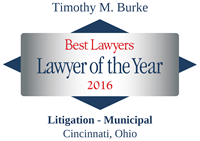 Much of Timothy M. Burke's practice is devoted to local government law and the government decision-making process.  His background prepared him for that.  He spent four years in Cincinnati City Hall as Legislative Assistant to then Council member Jerry Springer (yes, that Jerry Springer), served as Executive Director of Little Miami, Inc., a non-profit corporation dedicated to the preservation of the Little Miami River, a state and national scenic river, and twice served on the staff of Congressman Tom Luken.  Today, 50% of his practice involves representing governmental entities, representing clients in front of governmental decision-making bodies, or litigation for or against governmental entities.  He has served as Law Director for one of Cincinnati's suburbs, Lockland, for more than 30 years and has also served as Law Director for another suburb, the Village of Evendale for over a decade.  He has frequently served as Special Counsel to numerous other local governments and often is asked to speak on topics including municipal law, land use and zoning, eminent domain, civil rights and elections law.  He has also served as Special Counsel to the Attorney General of Ohio.
Mr. Burke maintains an extensive national practice, representing fraternities and sororities and speaks at several national conferences each year.
Phone: 513-763-6447
Email: [email protected]
Accomplishments
AV® Preeminent rating from Martindale-Hubbell National Legal Directory
"Ohio Super Lawyer," as listed in Law and Politics Magazine (2004-2011)
Best Lawyers in America (2008-2011 and 2017), named by Best Lawyers in America as Lawyer of the Year in Southwest Ohio for Land Use and Zoning four times and most recently as 2017 Lawyer of the Year for Litigation-Municipal in Cincinnati.
Professional Affiliations
Cincinnati Bar Association
American Bar Association
Ohio Municipal Attorneys Association
Community Affiliations
Ohio Board of Regents, since 2008-2014
Hamilton County Board of Elections since 1993, more than 20 years as Chair
Chair, Hamilton County Democratic Party, since 1993
Chair, Senator Sherrod Brown's Committee to Advise on Selection of the U.S. Attorney and U.S. Marshall for the No. District of Ohio, 2009
Commissioner, Cincinnati Park Board, 1991-1994
Trustee, Cincinnati Zoo, 1980-1991
President, Xavier University, Alumni Board of Governors, 1981-1982
International Supervisor of Election, Bosnia/Herzegovina, 1997
Get Out The Vote training session, four cities in Slovakia - under contract to U.S. State Department, 2002
Admissions
All Ohio State Courts
United States Supreme Court
U.S. Court of Appeals for the Sixth Circuit
U.S. District Court, Southern District of Ohio
Admitted for specific cases in Kentucky, Tennessee, Missouri, Delaware and Pennsylvania
Publications
Numerous articles in Fraternal Law, published by Manley Burke for last 29 years, four times an academic year
Formerly served as frequent guest commentator on local NPR station
"The Right to Freedom of Association:  Public/Private Distinctions (Chapter XII) in the Administration of Fraternal Organizations on North American Campuses:  A Pattern for the New Millennium," by Dennis E. Gregory and Associates, 2003
Presentations
2011 - Panelist, National Conference on Law and Higher Education, "The Roberts Court and Free Speech," Orlando, Florida
2010 - Presenter, "Christian Legal Society v. Martinez, 561 US __ (June 28, 2010).  A Discussion of the Decision and its Impacts," a national webinar sponsored by the Center for Excellence in Higher Education Law & Policy at Stetson University College of Law, August 2010
2010 - Lecturer, "The Consequences of Failing to Uphold Standards," Chi Omega National Convention, Orlando, Florida, June 2010
Previous National Convention Presentations on fraternity legal issues for Pi Beta Phi, Chi Omega, Delta Sigma Pi, Alpha Gamma Delta, Fraternity Executives Convention, Association of Fraternity Advisors and National Panhellenic Conference, and National Association of College and University Attorneys
Campus presentations have included Ohio State University, Miami University, Wittenberg University, Cornell University, Washington and Lee University, Morehead State University, Findlay College and the University of Cincinnati
Previous National Convention Presentations on zoning and land use, American Planning Association, National Trust for Historic Preservation, National Recreation and Parks Association, National Association of Community and Economic Development Officers
Numerous regional, state and local presentations on zoning and land use, eminent domain and election law
Education
1977, J.D., University of Cincinnati
1970, A.B., Xavier University